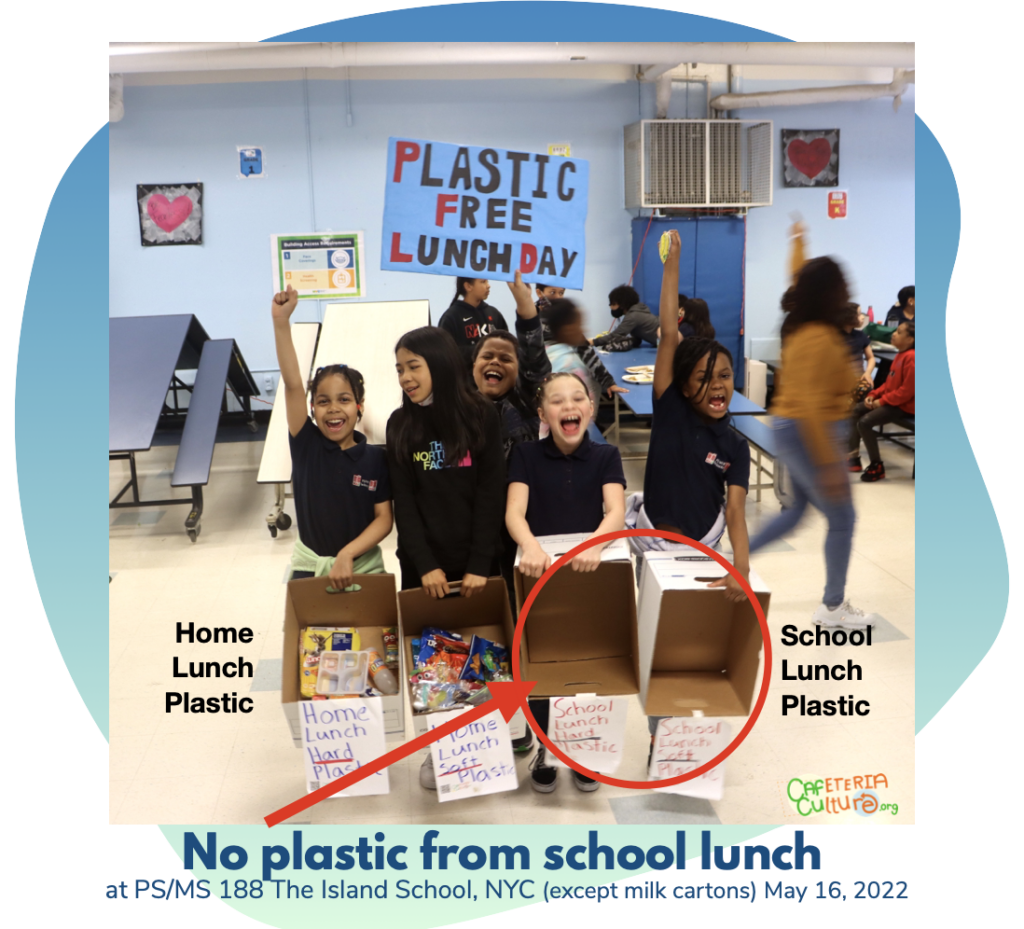 November 2nd is the first national Plastic Free Lunch Day! Cafeteria Culture, a partner project of the Fund for the City of New York, has teamed up with Urban School Food Alliance – 18 of the largest US school districts –  for the first Plastic Free Lunch Day USA!  Dallas ISD, San Diego USD, Baltimore City, Los Angeles USD, Dekalb County, GA, and New York City  public schools are all joining the action!  Watch our short promo video: www.plasticfreelunch.org.
Background
Plastic Free Lunch Day was started by fifty-six Red Hook, Brooklyn PS15 students – many living in public housing and all living on the frontline of the climate crisis – who participated in Cafeteria Culture's US EPA funded Trash Free Waters program (2018). These eleven-year-olds collected plastic pollution and data on beaches and streets, led neighborhood outreach, testified at NYC Council, then turned to their school cafeteria to take a close look at their own plastic use. They discovered that their lunches contained a shocking amount of single-use plastic. In response, the students designed and carried out the first plastic free lunch day that reduced total school lunch waste by 99% and eliminated 558 plastic waste items (as documented in our award winning movie, Microplastic Madness).
This one-day, student-driven plastic-free action resulted in the first New York City-wide Plastic Free Lunch Day in May 2022, followed by a commitment from NYC Department of Education to serve a monthly plastic-free lunch menu day, and now this national Plastic Free Lunch Day with large school districts across the country!
The students' plastic-free actions are now driving institutional change in urban school districts across the US and likely to shift national school food service trends. One Plastic Free Lunch Day leads to more! 
Why Plastic Free Lunch Day?
US school cafeterias serve 7.35 billion meals annually, making a large contribution to the global plastic waste stream. School lunches are loaded with single-use plastics and cafeterias typically generate the most garbage in a school building. Collectively, US school cafeterias have the potential to significantly reduce plastic pollution. 
In cities, such as NYC, where city organics collection (composting) is being rolled out to all 1800 public schools, plastic-free meals have the added benefit of reducing compost bin contamination. Reducing food scraps that go landfills and incinerators supports NYC climate goals through reduction of methane emissions. It also helps to mitigate a newer concern, microplastic contamination in agricultural soil.
The world produces over 400 million metric tons of plastic each year, most of which is throw-away single-use plastics, like the cafeteria plastics, that end up in landfills, are burned or littered, blown or washed into rivers and oceans. As described in Cafeteria Culture's award-winning student-led movie, Microplastic Madness, plastics survive for generations but quickly become brittle, fragmenting into small pieces called microplastics and then into tiny pieces called nanoplastics. These long-lived tiny plastic pieces have become airborne and taken flight across the globe. Large and small pieces alike have caused a near-permanent contamination of soil, air, and water. 
Plastic food packaging and foodware also create health problems. They leak petrochemical monomers, heavy metals, and persistent organic pollutants into our food and drink. Nano-microplastic pollution now contaminates every inch of the globe and our bodies. (see Issue briefs in our Resource Library). 
Plastic Free Lunch Day is a collective action of the largest urban school districts that can lead to a shift in national school food service trends, benefitting the health of the environment and millions of public students across the US.
About Cafeteria Culture
Cafeteria Culture (CafCu), a partner Project of Fund for the City of New York, is an environmental education organization working creatively with youth to achieve equitable zero waste, climate-smart school communities and a plastic free biosphere. Our programs foster youth-led solutions by merging community science, civic action, media production, and the arts. Students in our programs, overwhelmingly from lower-income and communities of color, collect data, debate policy, and take on leadership roles that inform policy and offer solutions to the climate emergency that are leading to institutional change. Our award winning movie, MICROPLASTIC MADNESS, features Brooklyn students from our program. The movie has reached audiences across the US and in 45 countries, sparking youth-led action to stop plastic pollution with schools as hubs for change.
Partnering with school food directors and students, we catalyzed the complete elimination of styrofoam trays from New York City and fifteen other large school districts, resulting in a half a billion styrofoam trays diverted from landfills, incinerators and student meals per year. Now, with the Plastic Free Lunch Day initiative, we are building upon that success to eliminate the remaining single-use plastics from public school food service.