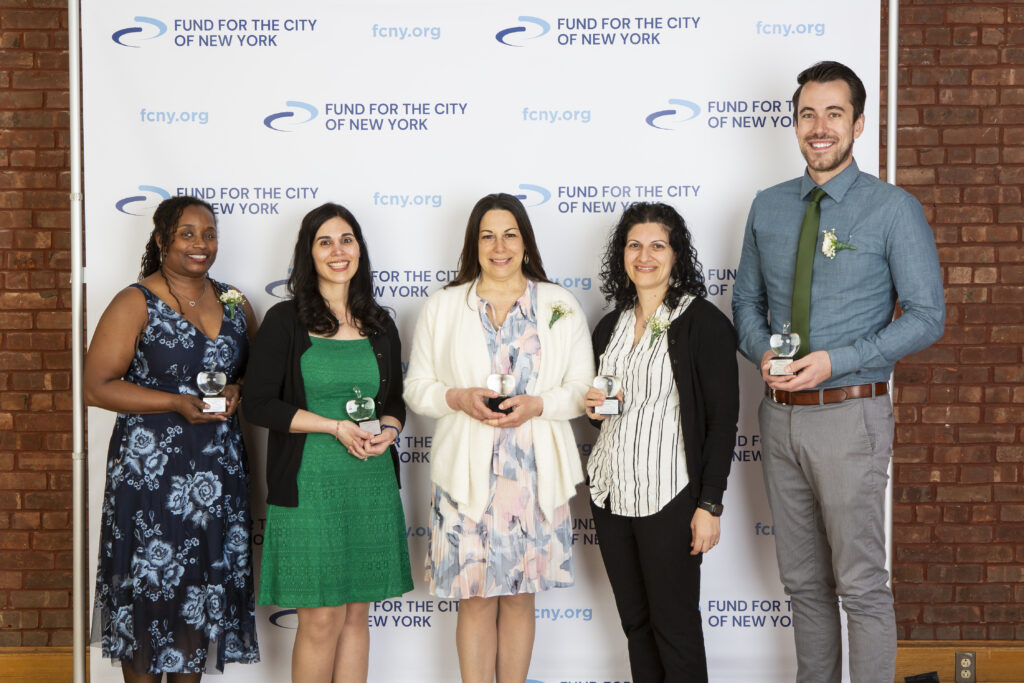 Being a STEM teacher during the COVID-19 pandemic in New York City requires not just skill and technique, but tenacity and heart. Seven public high school teachers were honored on April 27, 2022 with a Sloan Award for Excellence in Teaching Science and Mathematics for supporting their students in unprecedented ways and helping them excel during this challenging time. It also recognized teachers' ability to create clear career paths to STEM fields and inspire their peers along the way.
The Award—established by the Fund for the City of New York in 2009 thanks to the generosity of the Alfred P. Sloan Foundation–was conferred in an iconic location this year: the New York City Fire Museum. Passing antique scarlet and gold fire trucks, over 100 guests made their way to the ceremony to cheer on the Award winners: 
The honorees join a distinguished group of 77 past winners, and they are each exemplary educators who give their all each day. Their curricula are carefully designed to open new and exciting STEM paths for young people, and they encompass a wide range of subject matter, including physics, robotics, and computer science.  They employ creative means to teach, from having students write equations on windows, to going to parks to directly observe local flora, to competing in ocean science competitions at a national level. With dedication and care, these educators share their expertise and transform students' lives–and the Sloan Awards ensure their profound impact is recognized.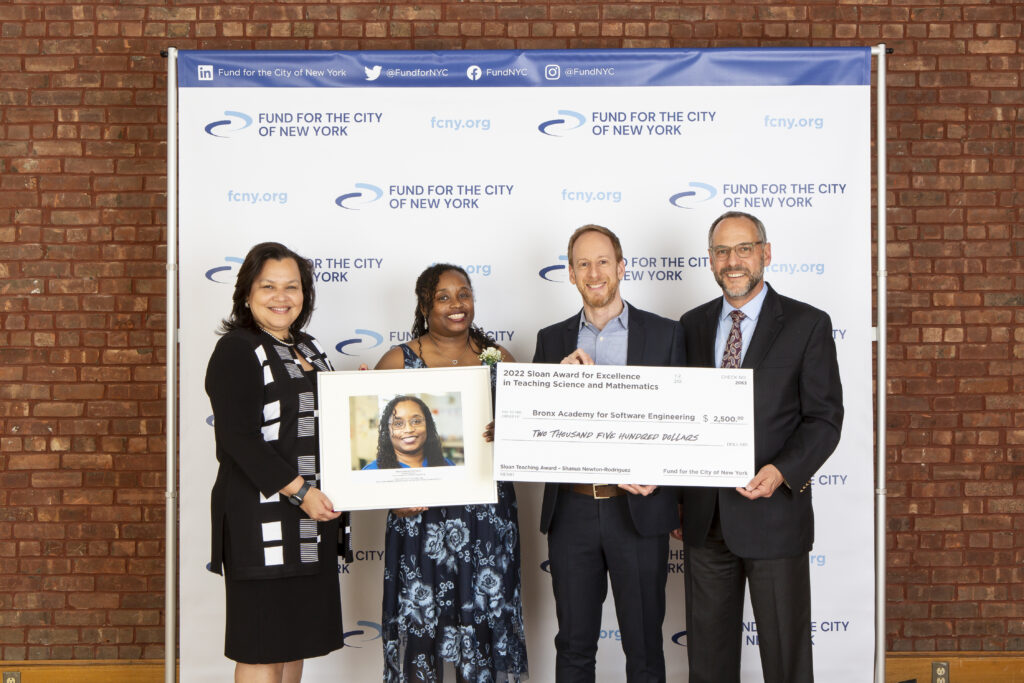 To begin this year's ceremony honoring these remarkable teachers, the Fund's President, Lisette Nieves, its Executive Vice President, Aldrin Bonilla, and the President of the Alfred P. Sloan Foundation, Adam Falk, offered opening remarks.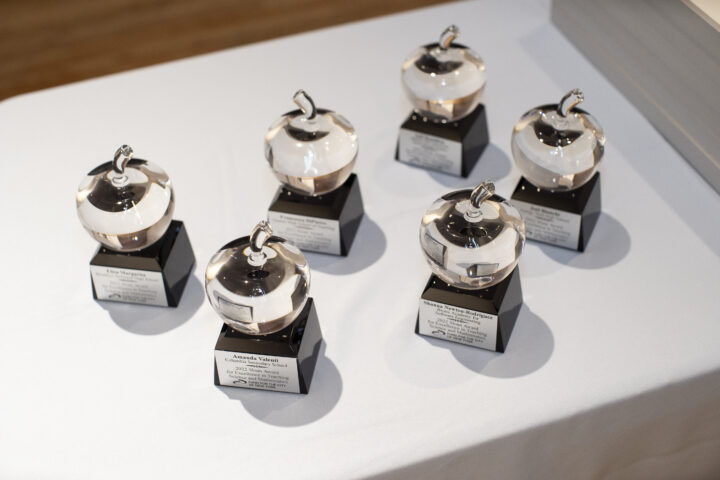 "I am humbled to be here this evening to honor some of the most important people in the city of New York–the teachers who are here with us tonight," said President Falk. "Every single person must be able to participate in science and the place that we make sure of that […] is our public school system." 
Following the opening remarks, each teacher was introduced by a principal or vice principal and a student before the audience watched a commemorative video and heard from the winners. The guests had seats, but they were often on their feet, applauding their public high school heroes.  
The awardees were each given $5,000 as an acknowledgement of their achievements, and the school's science or math department received $2,500 to strengthen their program.  The prize also included a portrait, a commemorative brochure, a full-page ad in the New York Daily News, and an engraved crystal trophy. 
Perhaps the greatest reward the teachers received, however, was the opportunity to hear from their students who described them as "genuine," "creative," and  "encouraging"–and they illustrated the depth of that impact in their speeches.  
"Shanua [Newton-Rodriguez] doesn't hesitate to stay after school and assist with sophisticated programming tactics and help her students," said senior Rexford Frempong. "Shanua doesn't hesitate to ask for better, industry-standard technology for our school. And most of all, she doesn't hesitate to let each one of us know how important we are to this generation as a student of color. […] She makes it clear that students of color–Black students–belong in the industry."   
"Ms. Lau taught me to be secure in myself, aware of my contributions, and to open my mind to the science in the world around me," said senior Lucero Rodriguez. "She is the best teacher Midwood has ever had and she deserves a million dollar raise–minimum." 
The value students place on teachers was palpable at the ceremony–and that appreciation is echoed in classrooms throughout New York City. In recognizing the 2022 awardees, we also honor their peers. In recent years, they have guided more than one million public school students through remote learning and in-class safety measures–and they have often been a lifeline to young people during periods of profound isolation and loss. New York City teachers  continue to go above and beyond to support their students during this pandemic. We sincerely thank the seven Sloan Award honorees and all educators for their heroism.
If you know an exceptional public high school STEM teacher, help us celebrate them by submitting a nomination.