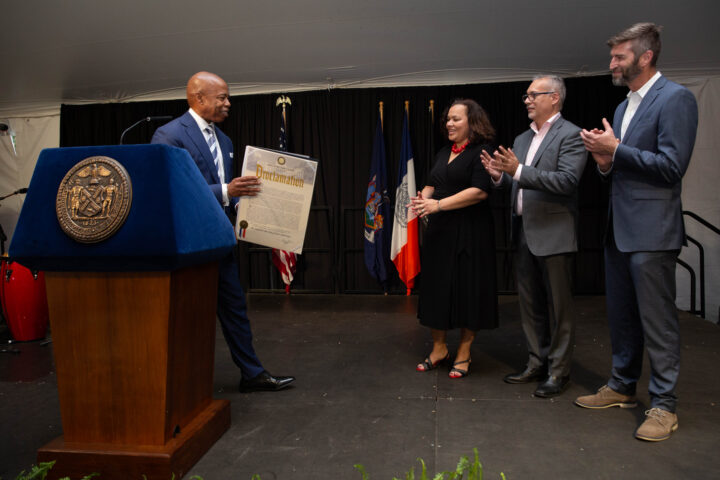 During the 55th Anniversary Reception for the Fund for the City of New York, NYC Mayor Eric Adams presented a proclamation declaring Tuesday, July 18th, 2023 as the Fund for the City of New York Day in the City of New York. Read the full proclamation below:
Whereas, New York is the proud home to an abundance of organizations devoted to creating lasting, positive change in the five boroughs.  The Fund for the City of New York (FCNY) stands out as one of these civic-minded organizations, having dedicated more than 50 years to strengthening out great city.  Tonight I am pleased to welcome the FCNY team and its partners and supporters to Gracie Mansion–the People's House–to celebrate its 55th anniversary and highlight the indelible imprint it has made on our great city.
Whereas, Established in 1968 by the Ford Foundation, FCNY works with local government and nonprofit agencies to incubate innovative cross-sector initiatives that can solve a variety of challenges in the five boroughs and improve the quality of life for underserved communities.  It offers interest-free loans, fiscal sponsorship, and comprehensive administrative and financial management assistance to emerging and established organizations, allowing these partners to concentrate their energy and resources on fundraising and providing their services and programs.  The focus areas of the groups they assist include arts and culture, civic engagement, criminal justice reform, economic and community development, education, the environment, health and human services, human rights, technology, and workforce development.
Whereas, Since 1973, FCNY has bestowed the Sloan Public Service Awards on six civil servants each year who have demonstrated extraordinary commitment.  This important program has honored hundreds of these often unsung heroes and invested more than $10 million to showcase the impact and significance that municipal employees can achieve while also further attracting talent to the sector.  In 2009, the Fund launched the Sloan Awards for Excellence in Teaching Science and Mathematics to commend exceptional educators in our public high schools and gives a grant to the recipients' science or math departments.  This wonderful organization also bolsters our city through its NYC Community Planning Fellowship Program, which places graduate students pursuing degrees in architecture, public health or policy, and urban planning within community boards, where they can apply their skills to real-world projects.  FCNY is a trusted ally in my Administration's mission to #GetStuffDone, and I applaud everyone associated with this distinguished organization–past and present.  Together, we will continue to forge a brighter, more equitable, and prosperous future for all.  
Now therefore, I, Eric Adams, Mayor of the City of New York, do hereby proclaim Tuesday, July 18th, 2023, in the City of New York as:
The Fund for the City of New York Day