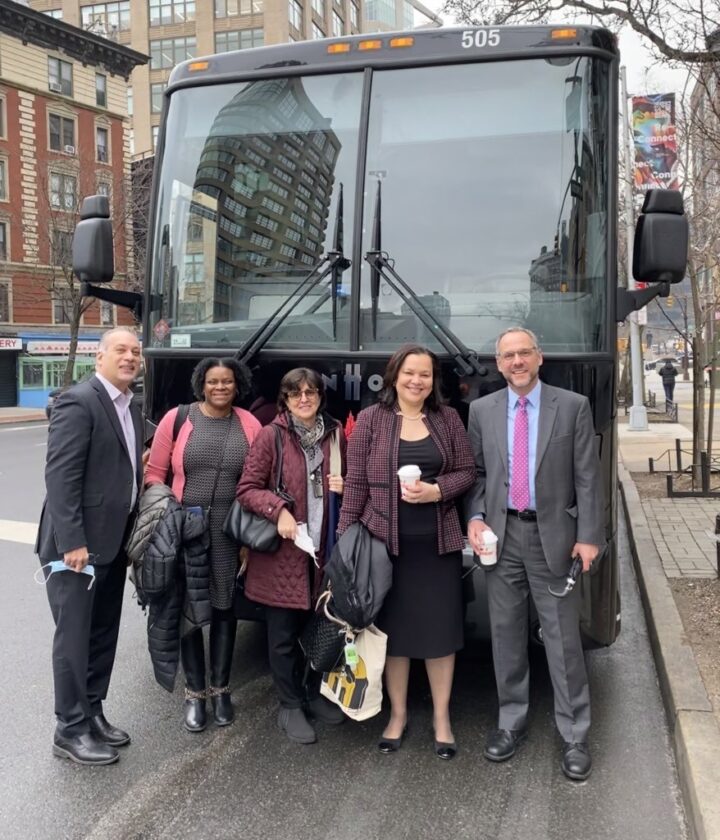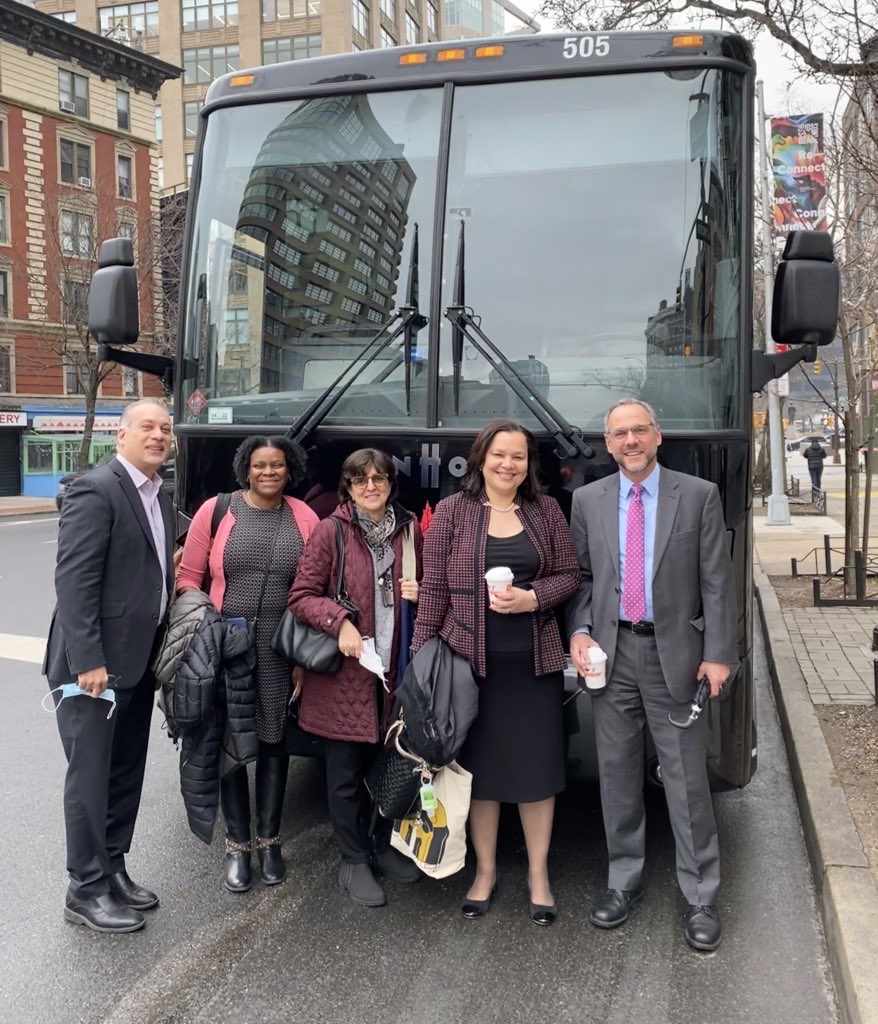 (L-R) Fund Executive Vice President Aldrin Bonilla, Selection Panel Chair Georgia Boothe, Selection Panelist Ester Fuchs, Fund President Lisette Nieves, Sloan Foundation President Adam Falk
On the morning of February 28, 2022, a large bus pulled up in front of the Fund for the City of New York for a one-of-a-kind road trip. Fund leadership, staff, and distinguished guests boarded with six silver-framed portraits bearing the names of exceptional civil servants. They were ready to hand-deliver them to the winners of the 2021 Sloan Public Service Awards—the "Nobel Prize of City Government." 
The Awards–established in 1973 and generously supported by the Alfred P. Sloan Foundation since 1985–are given annually to New York City civil servants whose dedication to the public is exemplary.  These are public employees who defend low-income families in court, ensure we have clean, safe drinking water, do the work of healing in hospitals, carefully steward public funds, and so much more. Their efforts are often exceedingly difficult and go unseen—except for that special day. The bus was chartered to go to each honorees' workplace to help this city bear witness to the extraordinary effort that supports and sustains our communities.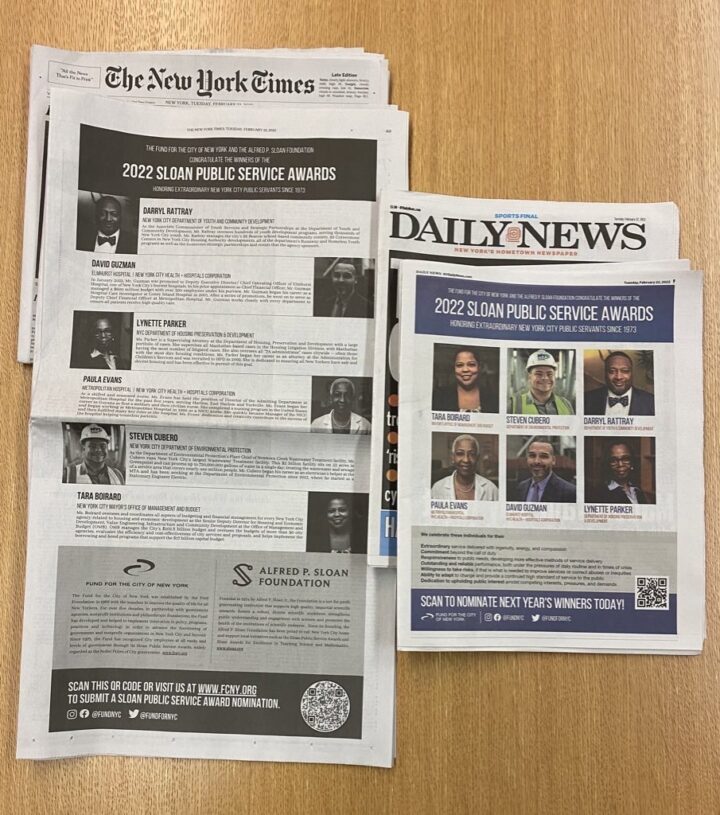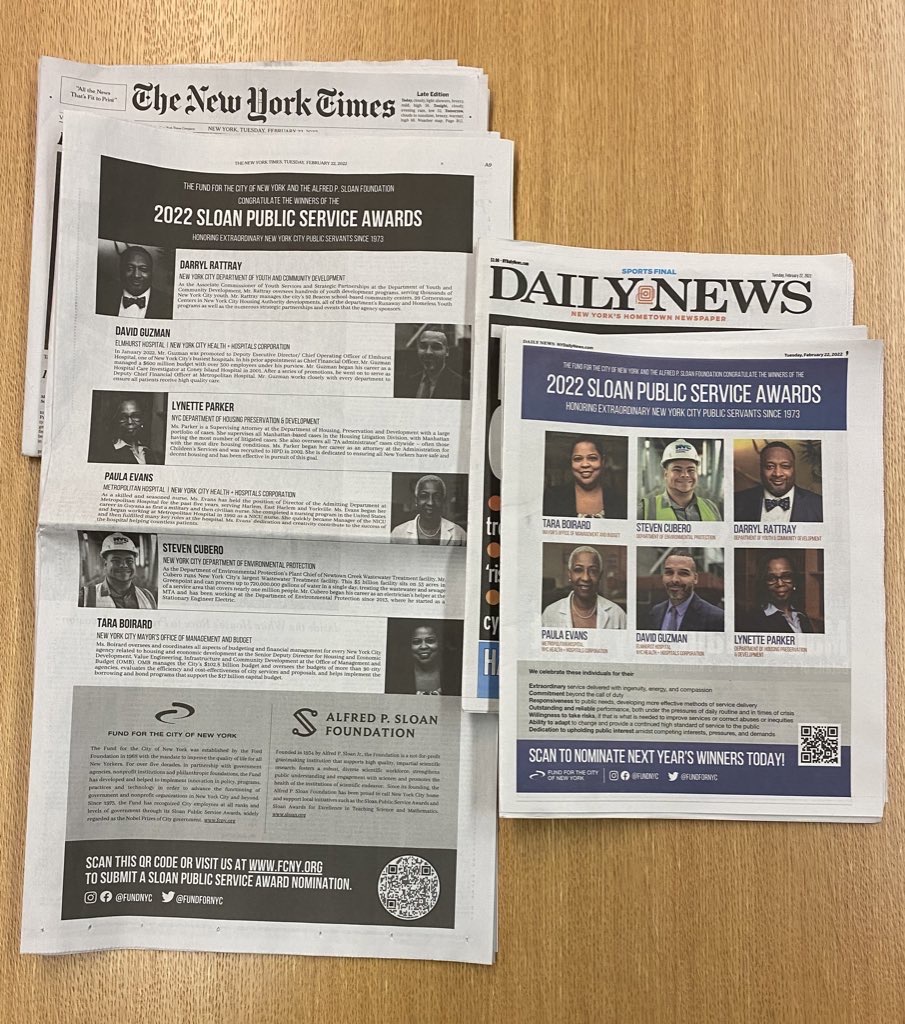 New York Daily News and the The New York Times with full-page ads celebrating the achievements of the 2021 Sloan Public Service Award Winners
The individual ceremonies would be held before proud colleagues, family, and friends, and a set of special prizes were prepared for honorees. In addition to the portraits, the award winners received a $10,000 check, a commemorative video and brochure, and copies of the New York Daily News and the The New York Times with full-page ads celebrating their achievements. 
The first stop, the Newtown Creek Wastewater Treatment Plant in Brooklyn, revealed pipes as tall as buildings and as wide as trucks. It is one of the five largest wastewater treatment plants in the United States–and Steven Cubero, the Plant Chief, is in charge of all 53 acres of it. We all face pressure at times, but Cubero oversees the processing of up to 720,000,000 gallons of water every single day. He treats the wastewater and sewage of a service area that covers nearly one million people.
During Cubero's awards ceremony, Selection Panelist Ester Fuchs drew attention to the behind-the-scenes work that Cubero and his staff engaged in during the Covid-19 pandemic.
"You worked with the Department of Health on testing the wastewater for us […] to understand how Covid spreads and identify a way to anticipate outbreaks in certain areas," she said. "On behalf of the entire city of New York, thank you, thank you."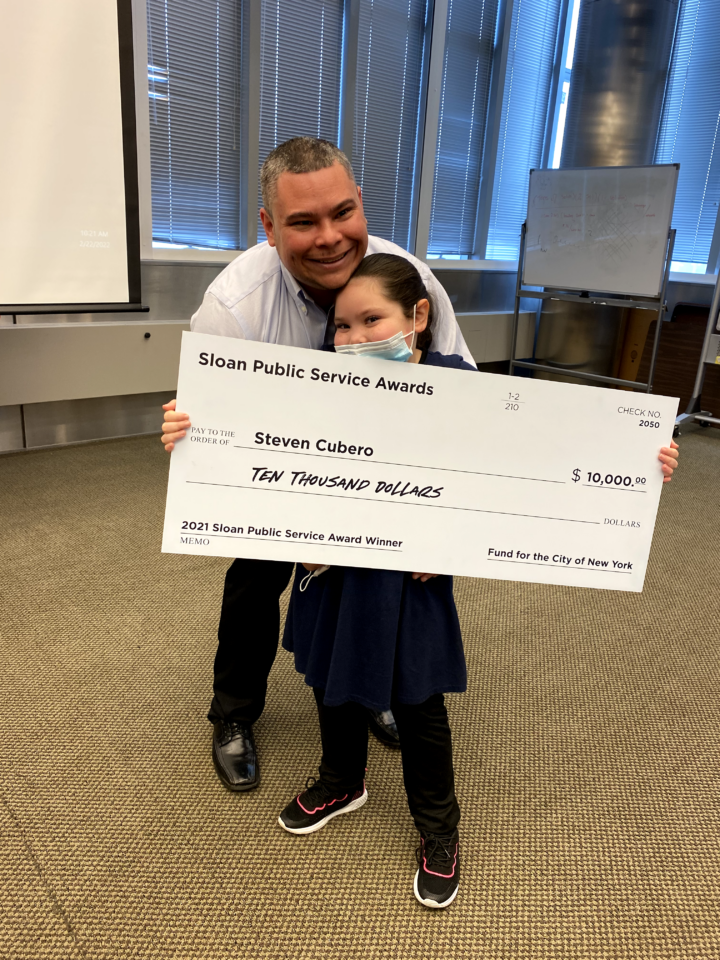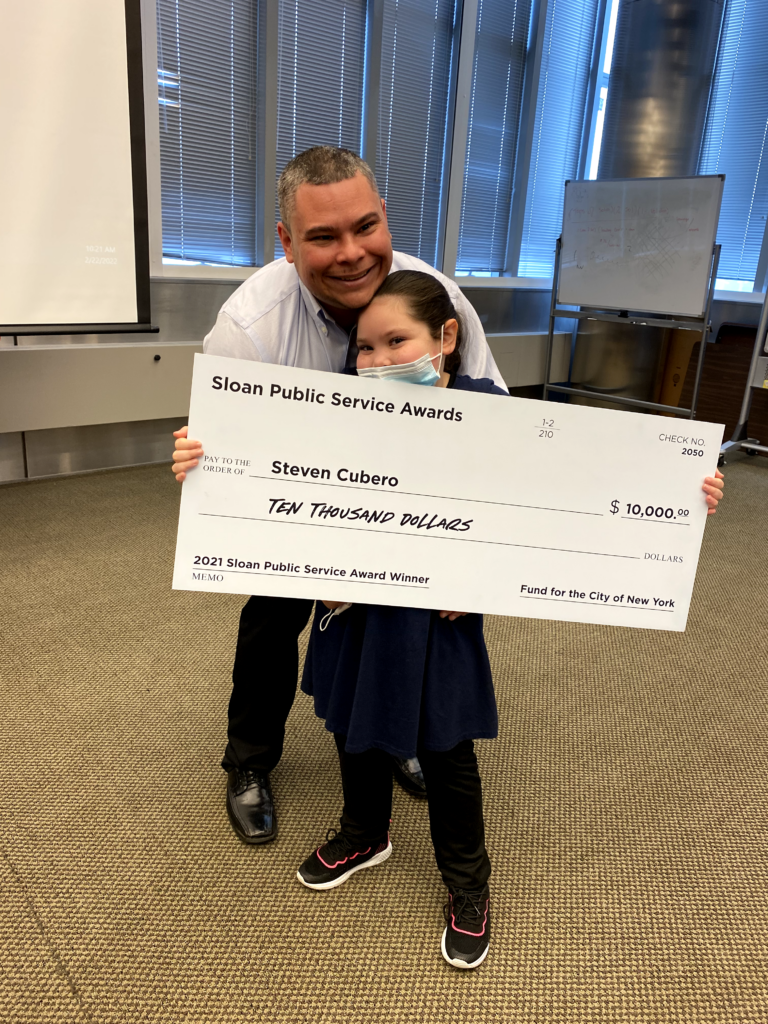 Steven Cubero's daughter helps him hold up the giant check.
When the ceremony concluded, the Awards entourage boarded the bus again, ready to continue the day's celebrations. As the plant's pipes grew small in the distance, the sky turned dark gray and rain pattered on the windows. The energy inside the bus wasn't dampened, however, and the group soon arrived at the Department of Youth and Community Development (DYCD) in Lower Manhattan to honor Darryl Rattray, the Associate Commissioner of Youth Services and Strategic Partnerships. Rattray manages nearly 200 youth development programs and centers in the city, oversees almost all of DYCD's recreational offerings for New York City youth, and supervises the Runaway and Homeless Youth programs. Witnessing his extraordinary work over the years, his colleagues cheered him on.
"Team Darryl!" said Eddie Silverio, Director of Youth Programs at Catholic Charities. "He's someone who always wants to know, always wants to give back, always wants to figure out how to make things better, and that's the work of a city employee."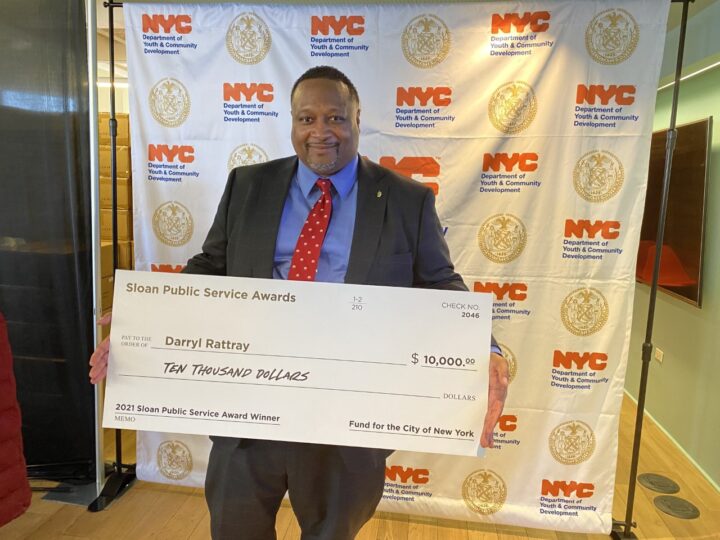 Darryl Rattray
Following the celebration, the bus was on the road again, headed to HPD—the Department of Housing Preservation and Development in Lower Manhattan—where Lynette Parker works as a Supervising Attorney in the Manhattan Housing Litigation Division in the Office of Enforcement and Neighborhood Services. She ensures New Yorkers have what they need to lead safe and dignified lives in their homes, including heat in the winter, sanitary conditions, and a voice that can speak truth to power. She doesn't shy away from standing shoulder to shoulder with clients in court–and a full room of colleagues gathered to recognize that dedication. The audience included Adolfo Carrión, Jr., on his first day as the Commissioner of HPD, and past Sloan honoree AnnMarie Santiago, the Deputy Commissioner for Enforcement and Neighborhood Services, who praised Parker before the crowd.
"I am sure [Lynette] could share innumerable stories about landlords who needed to be forced to do the right thing by their tenants and some who just needed a compassionate course of correction," said Santiago. "She has been one of the champions to make this happen. […] She and her colleagues […] form the backstop to our enforcement efforts, and without their efforts countless families would continue to live in unsafe conditions. She personally made their lives better."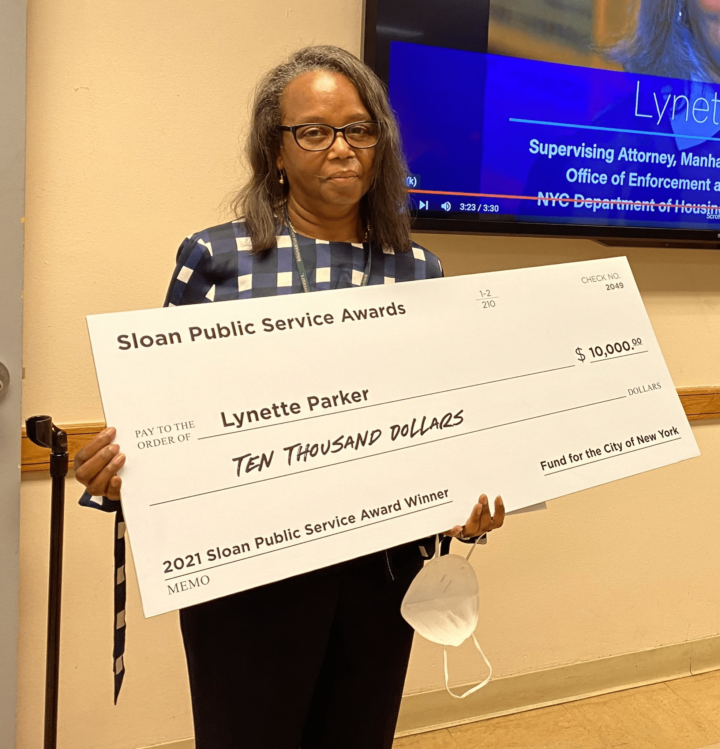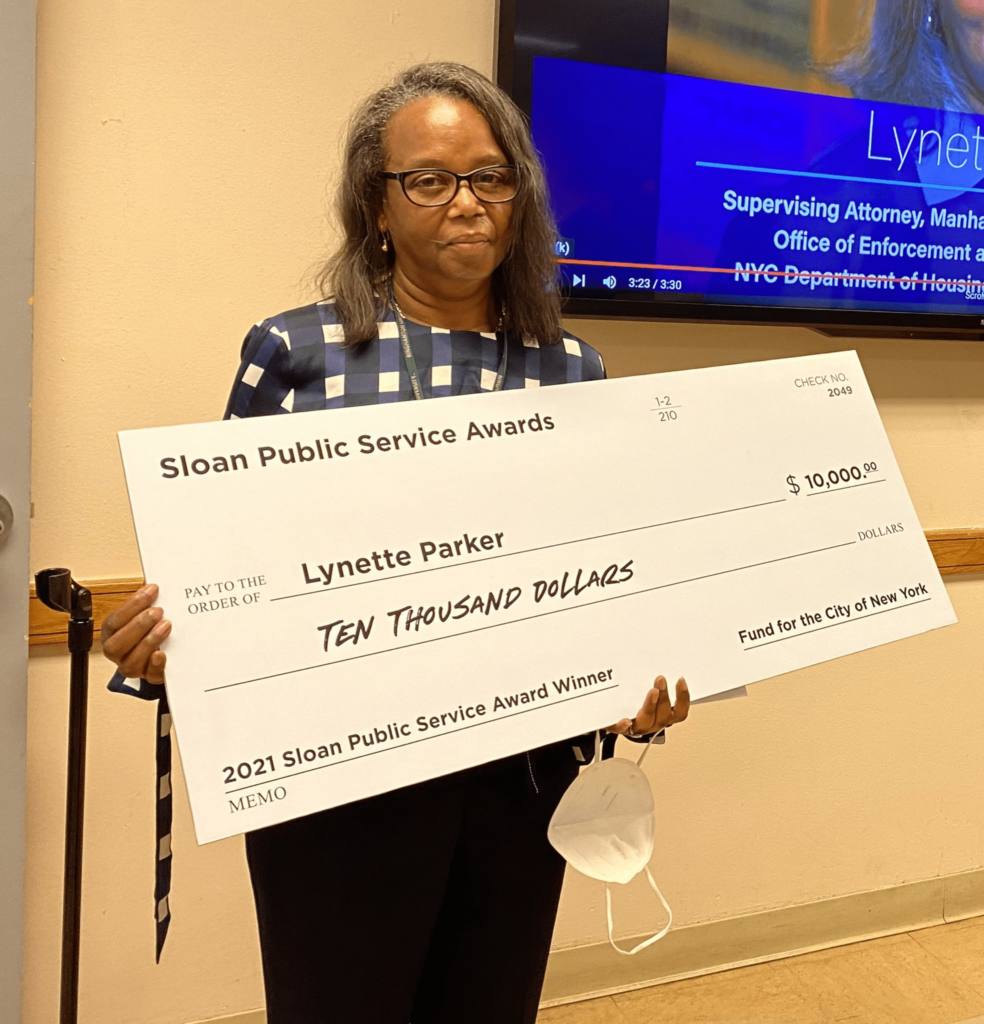 Lynette Parker
The fourth stop of the day was to the Mayor's Office of Management and Budget (OMB) to see Tara Boirard, whose title speaks volumes about the extent of her responsibilities. She is the Senior Deputy Director for Housing and Economic Development, Infrastructure, Value Engineering, and Community Development. She oversees and coordinates all aspects of budgeting and financial management for housing and economic development agencies in New York City–and she often approaches her expansive work through a personal lens.
"I have read that the best public servants are those who treat public funds with the same care and the same sense of purpose as they would their own finances," said Marcelina Valdez-Stankiewicz, the Economic Development Unit Head. "That is the level of commitment that Tara naturally demonstrates every day […]."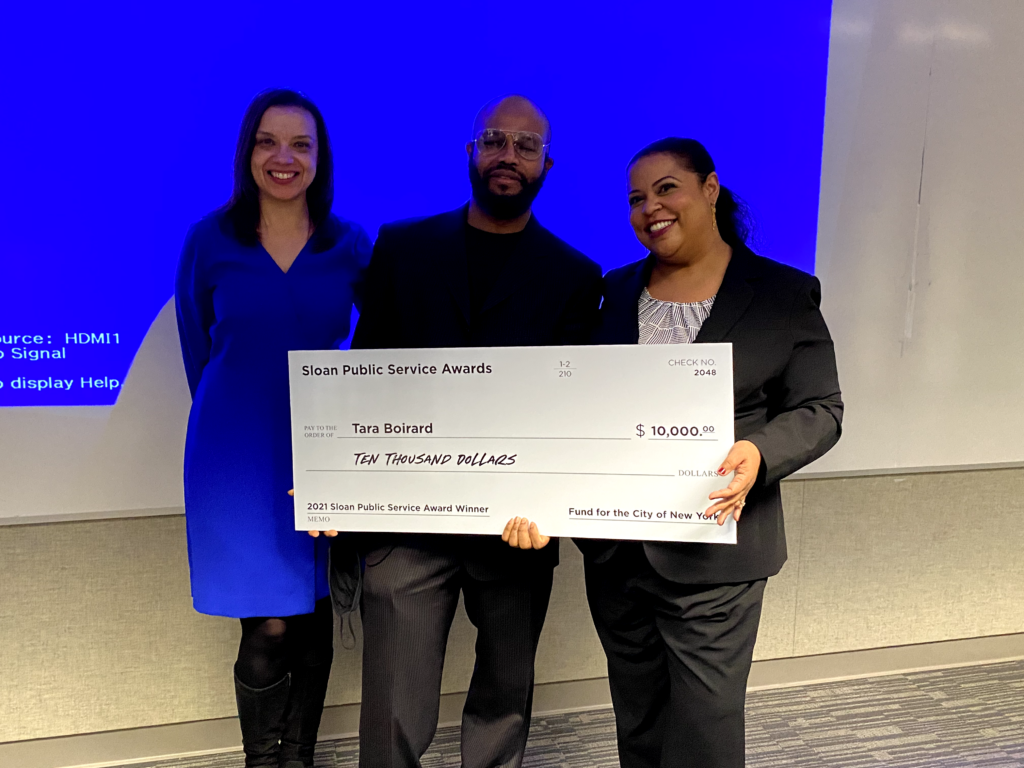 Tara Boirard (left) celebrates her award with team members.

From OMB in Tribeca, the bus made its way to Metropolitan Hospital in East Harlem to honor Paula Evans, Director of Utilization & Care Management. The staff there were so proud of Paula that they literally rolled out a red carpet. 
Evans has held a variety of roles that range from NICU nurse to Head Nurse and Director of the Utilization Management Department. Her commitment to high-quality patient care at Metropolitan Hospital, which has over 390,000 total outpatient annual visits, is almost legendary.
"We had long ago made her an honorary social worker," said Richard A. Siegel, the Director of Social Work and Discharge Planning. "She has been one of the biggest supporters of making sure we treat our patients as a whole person; making sure we take care of all their needs."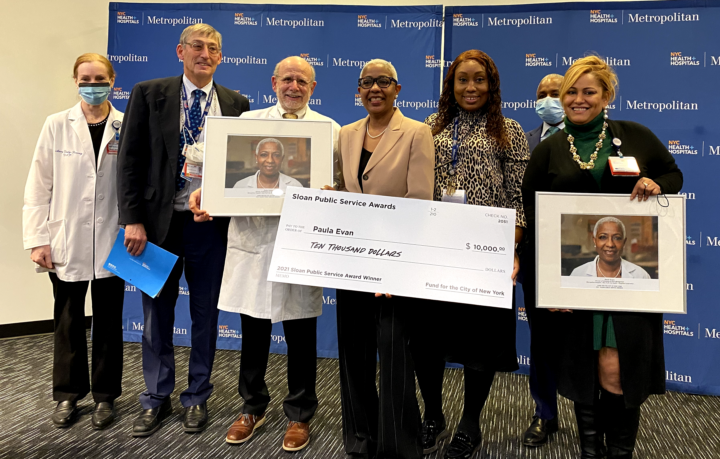 Paula Evans (center) and colleagues.
Aboard the bus again, the Awards contingent journeyed across the East River on the RFK Bridge to Queens, and arrived at their last stop. Leaving behind the dark evening sky, they entered Elmhurst Hospital and were greeted by bright stars—a room brimming with metallic gold and blue balloons. 
The celebration was for David Guzman, Deputy Executive Director/Chief Operating Officer, who oversees a $600 million budget and more than 300 employees. Colleagues cast light on his exceptional work, including during the pandemic, when he created a system to safely vet much-needed donations of personal protective equipment–including 60,000 masks. He also helped ensure patients had the care they needed, regardless of ability to pay.
"Not knowing what could have happened, you and your colleagues risked your lives to provide healthcare to a vulnerable and frightened community," said Erin Moss, HIM Director, "and that was [combined] with being at the epicenter of Covid."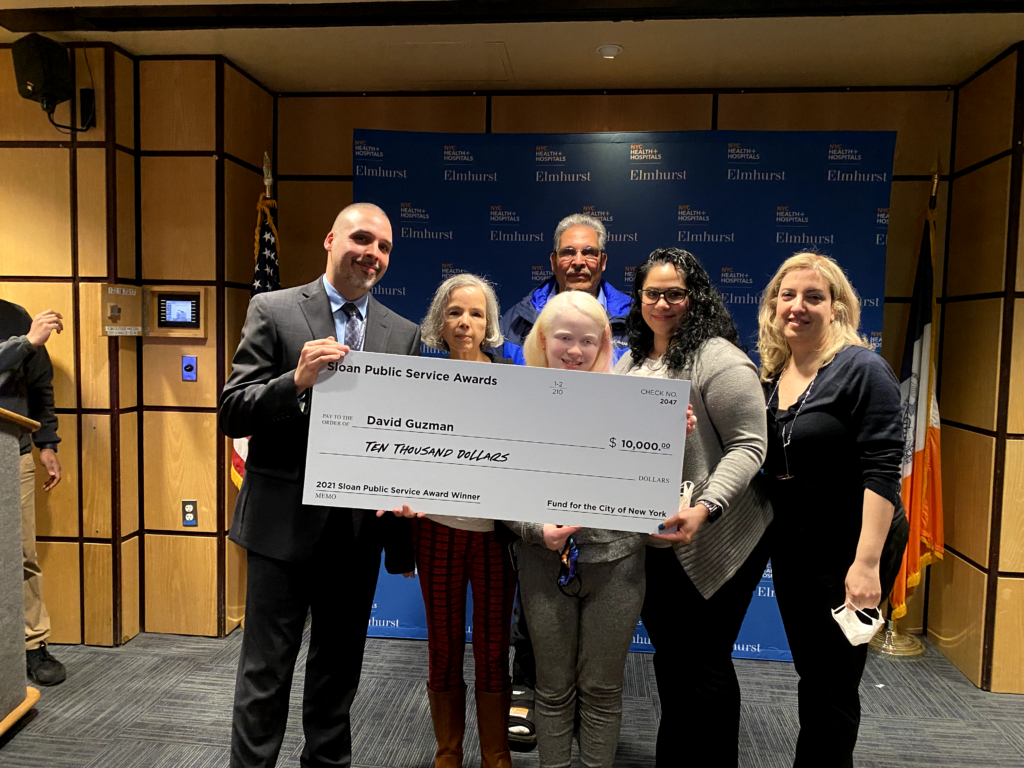 David Guzman (far left) and his family.
With Elmhurst keepsakes honoring David in hand, the Awards contingent boarded the bus one last time and made their way back to where it all began: The Fund for the City of New York. There, the search for the next six winners would soon begin anew—and a new bus would be chartered for another unforgettable journey that would bring all New Yorkers closer to our hometown heroes. 
If you know an exceptional public servant, nominate them for a Sloan Public Service Award today.